The Joyful Intercessors
---
Quick Find by Name:
Miguel Aguilera
Miguel Aguilera is a soldier of the White Plains Corps in the Greater New York Division. Miguel comes from a rich Salvationist history having parents, uncles, cousins and his sister as officers. He currently works at the corps as a Ministry Assistant. He has an upbeat and outgoing personality with a happy spirit. During the European Youth Congress in Praque, Czech Republic he had a life-changing experience and began to take his walk with the Lord seriously. Acts 1:8 (NIV): "But you will receive power when the Holy Spirit comes on you; and you will be my witnesses in Jerusalem and in all Judea and Samaria, and to the ends of the earth."
Megan Ashcraft
Everyone has their stories, each event that molds them into who they are. I grew up with two parents who were ministers. I knew God, but I wasn't always a Christian and my life wasn't always easy. It was because I was looking for peace and happiness in things other than Christ, but they never worked.
One of these things was at the age of 16, I began to date this guy who ended up being emotionally, physically, and even sexually abusive. I was in this relationship for 3 years of my life and those were the darkest times for me. I began to view myself as used, useless, and a nothing.
Once I broke off this relationship it allowed me to see Christ in a whole new way. After prayers of those closest to me and through church, I slowly began viewing Christ in a whole new way. I began to pray, read my bible, dance, and sing. I was realizing just how much God loved me. God sent His one and only son to die for us.
Today, I can see my worth in Christ and I am currently in college to become a minister. God took a broken girl and is using her in better ways than she could ever imagine. The joy and safety that I am finding in Christ is the best feeling anyone could ever ask for. I view myself in a better life, I am happy and I finally feel loved. Through this I am able to be love and show God's love to those who may not know and who may be in a similar situation that I was in. I would like to leave you this bible verse, "Have I not commanded you, 'Be strong and courageous. Don't be afraid or discouraged for the Lord your God is with you wherever you go.'" Joshua 1:9. To me it's a reminder that God is willing to do this through you as well, are you ready?
Andrew Behr
I was raised in the Church. I knew God at a young age and I always assumed that I was walking with him and his will. I was very wrong. When I Was eighteen years old, I had the audacity to challenge God to show me what true love looked like. I had grown up understanding the concepts of love, but never really experiencing love. It took a couple of years but, while I was on a mission trip to the inner city of Atlanta, Georgia, God opened up my eyes in a profound moment of revelation. Not only showing me what true godly love, but what it really is to be a follower of Christ.
Now if you think I up and went for the glory of God, you would be wrong. I fought against the truth. I had plans for my life and they did not coincide with God's will. I thought I knew best for me and I spent a very long time living the life I wanted to. During that decade I fell further and further away from Christ, always justifying my actions, convincing myself that I was free to do as I please. After ten years of running I finally let go. I gave in to God and surrendered. In that moment, the truth that he had been revealing to me over the whole of my life came to be a truth in my life. I felt the love of Christ to its fullest for the first time. During the next year and a half my life fell in line with his will. Yes there hard times when the old me still tried to take hold, but ultimately God won in my life.

Lydia Behr
I grew up in the church. I had Christian parents who instilled Christian values in me at an early age. Each week we went to our Nazarene church. I asked Jesus into my heart during an alter call at a Baptist Bible school when I was 7 years old. I spent my childhood and youth trying to be a good Christian by reading my Bible, praying, and going to church. As I have grown older, the Lord has revealed to me how much more there is to Christianity than just following the rules. The personal relationship you have with Him is what is truly important- not just how much of the Bible you read each day.
I went to a Nazarene college for a degree in early childhood education. After spending several years trying and failing to get a job in education, I finally realized I needed a new career choice. I practically yelled at God asking Him what He wanted me to do with my life. That was when my brother-in- law, who was the social worker at the Mt. Vernon Corps, suggested applying for the position of director for the afterschool program at The Salvation Army. I applied, was hired, and my husband soon became the youth director at the same corps. We began attending the church, became soldiers, and now we are at CFOT, training to become officers for The Salvation Army. It's funny how God works. Life is all in God's timing. I am lucky to have been introduced to God at such a young age, but God is still slowly revealing Himself to me in ways that I could never imagine. "For I know the plans I have for you," declares the Lord, "… plans to give you hope and a future." Jeremiah 29:11

David Berberena
"Before I formed you in the womb I knew you, before you were born I set you apart; I appointed you as a prophet to the nations." Jeremiah 1:5 (NIV)
Xiomara Berberena
"Have I not commanded you? Be strong and courageous. Do not be afraid; do not be discouraged, for the Lord your God will be with you wherever you go." Joshua 1:9 (NIV)
Katherine Betts
Before truly committing my life to Christ, I put my worth in other people's opinions of me and in my ability to achieve success in life. The problem with this approach to life was that whenever I fell short of my goals or of other people's expectations of me, I was left feeling stressed, alone, and discouraged. I felt like I had to earn people's love and appreciation, but striving to prove my worth was always very exhausting. When I finally reached rock-bottom and my self-esteem was at its worst, I prayed to God. I prayed because growing up, I was taught that the Lord loves and values us, even though none of us are perfect. I never really let that thought become personal to me until that moment in my life when I felt completely alone. I remembered that I am never alone because God loves me and cherishes me more than I could imagine.
Since realizing the extent of God's love for me, and since committing to love Him back with all of my heart, I have felt much more joyful, content, confident, and valued. Every day, I am encouraged in knowing that according to Isaiah 41:13, God is always with me, holding me up: "For I am the Lord your God who takes hold of your right hand and says to you, 'Do not fear; I will help you.'"

Michael Blanchette
Hello, my name is Michael. I am the oldest of ten children. My parents had four, then both remarried and had three more each. I was about eight years old when they divorced. I didn't understand what was happening, but I became very angry and destructive. My father started going to a Baptist church, and my mother a Catholic Church. School wasn't any help either because they taught against creationism. This caused me confusion, and I wondered why things were so different. At age thirteen, I was introduced to alcohol and marijuana. I was already getting into trouble, but now things progressed faster. I started using whatever drugs I could get a hold of. I left home at sixteen, and quit school. The next twenty years, I spent in this destructive lifestyle. I lived as a hippie and traveled from the east coast to the west coast. I have lived on the streets in over half a dozen states.
I found myself in trouble with the law often. The last time I got arrested I knew I was spiraling out of control, and I just wanted to die. I decided to go to the Salvation Army ARC, a "Christian rehab" to try and look good for court. There I had a personal encounter with Jesus, and that has completely changed my life. I have been sober from all substances since that first day. I became a member a "soldier" at my "Corps" the Salvation Army church. Now I'm a "Cadet" student at "CFOT" college, learning how to be better equipped to spend the rest of my life sharing the hope and new life that is found in Jesus Christ. But God proves His own love for us in that while we were still sinners, Christ died for us! Romans 5:8 HCSB
Jaclyn Brewer
Jaclyn Brewer is a soldier of the Massillon Corps in the Northeast Ohio Division. She currently works at the corps as a Ministry Assistant. Jackie has a Bachelor's Degree in Biology from Walsh University. Jackie grew up in the Salvation Army and has been involved at the corps and divisional ministries for many years. She sensed the Lord calling her to ministry, but did not believe it was to become an officer. Her eyes were opened one day after talking to her corps officer and she said, "Yes" to the Lord. Jackie sealed her calling this past year while attending the Candidates' Seminar. 2 Corinthians 12:9 (NIV): "But he said to me, 'My grace is sufficient for you, for my power is made perfect in weakness.' Therefore I will boast all the more gladly about my weaknesses, so that Christ's power may rest on me."
Claudia Cano
Claudia Cano is a soldier of the Pawtucket Corps in the Southern New England Division. She currently works at the corps as a Social Worker. Claudia was born and raised in Columbia and moved to the USA with her family. She came to the Salvation Army seeking assistance and was invited to attend the Sunday meetings at the corps by the social worker. Claudia is active in her corps teaching Sunday School, leading and speaking in the meetings, and working with the youth. Psalm 40:1-3A (NIV): "I waited patiently for the Lord; he turned to me and heard my cry. He lifted me out of the slimy pit, out of the mud and mire; he set my feet upon a rock and gave me a firm place to stand. He put a new song in my heart."
Anyanette Castrodad
Anyanette Castrodad is a soldier of the Worchester Corps in the Massachusetts Division. Anyanette currently works in receiving for a retail store. She and her children were invited to The Salvation Army by a neighbor when she moved to the USA from Puerto Rico and immediately feel in love with the corps family. She loves to talk to people about God's love, she loves to serve others, and her passion for ministry is working with the homeless and children. Galatians 6:9 (NIV): "Let us not become weary in doing good, for at the proper time we will reap a harvest if we do not give up."
Esther Cherubin
I was born in Brooklyn, NY to Haitian immigrant parents. My mother did her best to raise my eight siblings and me with Christian values. As early as I can remember, I attended church, prayer meetings, and I had an understanding of Jesus Christ through worship songs and Sunday school lessons. As a child, I was a good 'church girl' on most accounts which meant that I earned good grades and spent most of my time at church or school. At age nine we moved to Florida and I began to attend the Salvation Army- Miami Edison Corps.

The elders at the church spent time teaching me Biblical truths about Jesus Christ. I knew I was a sinner and was sorry for my sins. As a result of completely being immersed in Christian fellowship and Bible study, I experienced God's grace, mercy and my need to be forgiven. With help, I prayed the prayer of repentance and accepted Jesus into my heart. I recall being filled with overwhelming joy as I was aware of God's presence in my life during that season. I had to learn how not to copy the behavior and customs of this world as expressed in Romans 12:2. At 23 years old, I found myself in deep rebellion to God. There was absolutely no evidence of the good confession of Jesus in my life. In desperation I cried out to the Lord Jesus and He opened His Word to me. Jesus Christ has changed my life through revealing Himself through The Holy Bible. Psalm 119:73, "Your hands made me and formed me; give me understanding to learn your commands." He is indeed the giver of life to those seeking love and identity. God truly restores and I'm a witness to His redemptive power.
Kirsten Childs
I grew up in a loving Christian family and attended The Salvation Army from a child to a young adult, participating in all kinds of activities at the corps. Even though I did all these things my faith wasn't really firm. I had faith and trust in people around me and those people let me down. In my early 20's, events happened that shook my faith. I got angry at people and I was also really angry at myself, but I was too prideful to admit that at the time. I was really hurting and confused. I left the corps and fell away from God, leaving the only life I had known and ventured out into the world. Over those years away, I did things my way and the world's way. I met my husband during this time and he was going through similar experiences.

After a year, we married, had two beautiful children, and bought a house. About eight years ago, we started attending the corps in Springfield, MA. As I attended over the last few years, God revealed to me where I went wrong. I didn't put my trust in Him. I put my trust in myself and others; and tried to figure out life according to my understanding. I'm thankful for His faithfulness to me, even when I was so unfaithful, prideful, and just wrong about so much. Proverbs 3:5-6 is my life verse. It says, "Trust the Lord with all your heart, and lean not on your own understanding; in all your ways acknowledge Him, and He shall direct your paths." I know I can trust Him and rely on His understanding to get me through no matter what comes, wherever He leads and needs me.


Neil Childs
I have always been kind of a control freak. And after having tried to keep control of my life, Infound myself in a hospital bed. It was here that I suddenly came to the realization that the harder I tried to control my life, the more I lost control. I have been a type 1 diabetic for the past 11 years. I tell you this, not for sympathy, but for understanding. As a diabetic, I have to constantly monitor and maintain my blood sugar levels. I test my sugar 4 to 5 times per day to make sure that I am within "normal" levels. This isn't as easy as it sounds. The bottom line is that I had tried to maintain my sugars differently than the way my doctor prescribed. This along with a dispute with my insurance company found me lying in a hospital bed with Diabetic Ketoacidosis (DKA).
It was at this time that I finally realized that I can no longer try and control my life. I had been trying so hard to keep everything under my control and ultimately shutting God out of much of the equation. I had been going to church, and became the Corps Sergeant Major, but it was all about me and not about God. I played the game, but didn't understand the real purpose of church. Finally, as I lay in that hospital bed, I rededicated my life entirely to God. I no longer wanted to control my life without His guidance and direction. It was then, that my corps officer came to visit me and in the middle of my conversation with him, he asked, "Have you and Kirsten ever thought about officership?" It was then, that I realized that God forgave me, and had a new purpose for me.
Austin Chung
"We love because he loved us first." - 1 John 4:19

Everyone has a different storybook when it comes to which path their life has taken. I grew up in a Buddhist household, following Buddhist beliefs and traditions. I was too young to understand what religion was and found myself doing these practices only because my family was.

Coming from parents who were immigrants, I had a lot of independence. I started getting involved with the wrong crowds, get involved in drugs, alcohol, and sex. It became an addiction. In my teenage years, there was a big split between parents. It resulted in my mother being by herself supporting her three children. My life was just a mess.

I finally realized that my mom was working hard day and night for my sisters and I to receive an education. I couldn't waste all of her efforts and started to change my life around. It all started when I got involved with a church, The Salvation Army. I felt something really move into my heart when I was listening to Christian music. By just reading and listening to the words of these songs, I was able to fully understand that it was Christ entering my life. I started to pray, to read the bible, and I finally realized that God sent His one and only son to die for us.

Today my life as a Christian has only made me who I am now. I'm no longer that broken person and God took someone who needed to be loved and wanted, and gave that to me. Through Him, I am able to show what He has done for me and can share to those who are still lost. If someone like me who went through so many hardships is able to feel love through God, then there's nothing that God can't do.
Darlene Clark
"For God so loved the world that he gave his one and only Son, that whosoever believes in him shall not perish but have eternal life." John 3:16 (NIV)
Dante Cox
My earliest childhood memory is actually not from an actual event. It is actually a horrible nightmare. Although the nightmare is very terrible for me, the idea of not being in control is even worse. In my nightmare, I felt very much out-of- control. It was more of a helpless feeling. In so many ways, early in my life that is exactly what I felt. These all are things that I was told was normal. During my youth, I was incomplete. I fell short academically, domestically, financially, romantically and everywhere else in my life. In other words, my life was OUT-OF- CONTROL! As a highly intelligent and socially confused young boy, I had no direction nor care to be like everyone else. That was until I started to struggle with acceptance and loneliness. I had been in gangs, I had stolen, I played sports that I didn't even enjoy playing, I cracked jokes, and I hit on girls that were out of my league. All of these actions were due to not feeling accepted by society or my family. They always wanted me to be better and that is all I cared about doing for them. When realizing that I can't please everyone, I struggled finding happiness. I also struggled with identity. If this was the normal way of life, I knew I had to change something.

At GNY Youth Councils 2007, the theme was 'Dancing Upon Injustice'. The idea was that we were to do things differently than normal. One of new ideas was having lunch at 8 am, dinner at 12 pm, and breakfast at 5pm. They really wanted to get us into the routine of thinking differently. The ideas interested me so much that I didn't care about having no control of what was happening. I was just privileged to be doing something new. During each event, they used a theme from the bible but introduced it with a song or a skit. By the end of the night, there was an invitation to be a person who takes a stand against the wrong doing of the world as Jesus did for us as written in John 3:16. Of course, I felt compelled to take up that opportunity to be a part of change. To this day, I have never felt so free and unashamed. I feel loved, I feel unique, and I feel unconcerned about what I am going to eat or what to wear. I don't value the opinion of society. Now, I truly know what I am doing in my life. I don't feel a need to pretend or be better than anyone really. Being a Christian is not normal in this world and it is still the best decision I have ever made in my life.

Jamie Crowell
I was born into the Salvation Army and have been a "Christian" for as long as I can remember. I never had much of a choice when it came to my faith. I was dragged to every Sunday School class under the sun, and was forced into every church program in existence. Growing up, my family was pretty lucky. We never really "wanted" for anything. My parents made enough money to get us whatever we needed. All of this may sound like something to envy, but I assure you it was not as awesome as it sounds. Because of this cushy life, I never had any reason to rely on God, and definitely never needed or even wanted a real relationship with Him. I got to the point where I thought I didn't need Him. I thought I could do it all on my own.
When I was fifteen I was rushed to the hospital, with the most intense pain I have ever felt. I immediately went into surgery. Long story short, this surgery made my teenage life a complete disaster. It entirely screwed up my emotional well-being. I headed down an extremely dark path and found myself considering engaging in some serious self- harm. I was in a pit of depression and didn't see a light at the end of the tunnel. Even though then, I felt like God had abandoned me, it was then that He was the closest to me. I recognized then, that throughout my struggle, He had been walking beside me the entire time. Without that experience, I would have strayed further from the Lord, and would be extremely far from where I am today. He sometimes uses the bad, to open the door to the good. Now I am loving God and loving life.
Nathan Deming
At 15 years old, I wanted nothing to do with having a personal relationship with the Lord. All I wanted to do was to do things my own way and hang around with not the best friends. As the first couple years of high school went buy I started to grow up more, but I still wasn't for having a relationship with the Lord. At the start of my senior year of high school I went to the territorial young adult retreat at Camp Ladore. During that weekend I felt the presence of the Lord and His love, and I knew I needed a relationship with Him. After that weekend I went back to my normal life and started to develop a better relationship with the Lord, but I still wasn't living for him. As I was applying to colleges I wanted to be a sports manager and make thousands of dollars each year and that's all I cared about, but it wasn't the Lords plan.

After I graduated I made a commitment to fully surrender my life in God's hands. The Lord started to do a lot of work in my life and begin to lead me down a path. I ended up not going to the college I wanted and ended up working at my corps. As I listened to these lyrics "Spirit lead my where my trust is without borders, let me walk upon the waters where ever you would call me" I received my calling to officership. I use to only want to make thousands of dollars a year and now the only thing that matters is thousands of people I will get to meet in this ministry and touch and it's all because of the mercy and love of God.
Shakai Drigo
"For God so loved the world He gave His only begotten son, that whosoever believes in Him shall not perish, but have eternal life"- John 3:16
Imagine a boy, surrounded with virtuous opportunities in all that he does. A world waiting for him to inject his exceptional qualities for a better tomorrow. But the world and theses prospects stay idle because the boy lived in the bubble of fear, intending never came out of. I was that boy. The most important thing to me was being cool and following others to validate me. I was fearful of being myself. My fear drove me to miss valuable opportunities that would enriched my physical, emotional, spiritual state of mind.
I found myself all by myself not knowing who I was or what I'm supposed to do. My mom always said to me 'say your prayers' but I didn't know how. One day I read revelations and got really scared of what would happened to me when I die. When I read about the last day my fear drove me to repent. Suddenly, I had a peace and many men of God started to mentor me and teach me about Christ. After seeing how bold they were and hearing about who Christ is through them I wanted nothing more than to be like Christ in all his likeness.
Jesus was absolutely the person I was looking to follow. He embodied the qualities I was searching for: honor, integrity, caring, loving, humble, smart, bold, sense of identity and most importantly and now I have the ability to be all those things. I am a Christian, and to be a Christian is to love Jesus so much for what he did you're giving him your life to use for his will.
Tharonza Elmonus
I was born and raised in a Christian family. In Haiti, it was required that you go to church. In elementary, I attended the Salvation Army school in Haiti and I also attended the Sunday service as well. When I moved to the United States at the age of eight, I continued to attend the Salvation Army church at the Westbury Corps with my mother and my siblings. When I moved to the United States at the age of eight my hunger to learn about God increased. The more I learned about God, the more I wanted to seek and serve him. At the same time he was doing many wonders in my life. It was my experience that allowed me to grow spiritually.
So at the age of nine, I gave my life to him, and I am proud to say that was one of the best decisions I have ever made. I accepted Christ as my Lord and Savior not because I was told to but it was because at a young age he removed the veil of darkness out of my eyes. It was in my journey of going to school and church was when the spiritual seed was planted in me. When I stopped running away from God and allowed him to use me, I was able to see his blessings in my life. I am blessed with a high education, knowledge, love, compassion and hope. Let's not stop there, I am at the School for Officer Training. I was running from God because I recognized all I could not do because of my disability, but I failed to recognize God sees ability in disability. With God, I can do all things. Thank you and God bless.

Jamie Elwell
I grew up in a household where Christ was rarely talked about, and never lived out. I was a deeply, wounded and insecure little girl. I longed to be loved and accepted by my parents, however, they were too busy fighting and trying to survive. They were unhappy, young and busy. There was constant arguing going on inside of my home. Before following Christ, I tried to become somebody of worth by attending college in 2000. During this time, I also sought out unhealthy relationships that led to destructive behaviors of addiction to dull my pain. I realized I needed more than what I was living. I met my friend Michael while in college and he shared Christ's love with me. I learned that Christ would forgive my sins if I asked him in my heart and turned away from my sins.
I struggled with letting go of my past and fully surrendering to God. This was a journey, and it took some time. In God's time, Jesus healed my heart and the chains of addiction and seeking after man's approval were broken. Today my life as a Christian is full of joy. God has restored my family relationships for the most part. Christ is my center and I understand that it was by His grace that I am saved and free today. Currently I am in school to become a minister. I now have purpose in Jesus. This is a scripture verse that was claimed for my life many years ago that God is fulfilling. "I will lead the blind by ways they have not known, along unfamiliar paths I will guide them; I will turn the darkness into light before them and make the rough places smooth" Isaiah 42:16 (NIV).
Florette Etienne
Before following Christ, I was extremely shy, I can be in a place people won't even realize it. That was one of the "reason" I kept delaying God's call. Upon coming to The Salvation Army, after several years. I felt God was calling me but my response was that is not possible, I started pleading with God. 'God you know I have speech problems, on top of that English is not my first Language, and you know the primary language at the school is English? "How am I supposed to get through it?" That caused me to avoid Salvation Army programs such as going to the CMT, women's camp, family camp because every time I went to one of them, I felt the calling was getting louder. I finally signed up to go to the candidate seminar. When I got there I asked myself, "why did I come here?" Later on before I went to bed, I said to the Lord, "You know I can barely speak English". Little did I know God was making provisions on my behalf. When I got to the school I saw they had creole resources for all of the classes. You see, sometimes we have to do is take one step and God will do the rest.
Today, my life as a Christian is doubtless because God calls me to do his job, and I know he will equip me. He gave me all the necessary tools and he placed the right person on my way to help with the journey. I don't have to worry about anything because God already has it under control. I encourage you to trust God in everything because the one who calls you is faithful. He will continue to be faithful. All we have to do is trust Him and believe in him.
Olguens Fils-Aime
Unlike many people, I had the privilege to go to church at an early age not because I wanted and loved to go, but because The Salvation Army elementary school I went to forced me to go. After elementary school, I stayed out of church for more than 5 years since the most important thing for me was to watch and play soccer games. I took pleasure also in going to balls. I wanted to be a soccer player or a musician. Thanks to God someone came into my path to show me the right way.
Meeting with my wife, my then girlfriend, more than five years after leaving church was a blessing from God. She preached and taught me about Jesus Christ who came to give his life because of our sins. As she persisted, she finally convinced me after talking to me about 2 Corinthians 5:17 that stated, "Therefore, if anyone is in Christ, the new creation has come: The old has gone, the new is here! (NIV). She also talked to me about eternal life where there will be no death and suffering, and how my life would be changed when I am in Christ. Therefore, I decided to give my heart to God as my savior.
After taking such a decision, my life has been changed for real. As a Christian, I have peace in my mind where I do not have to worry about anything that can happen in my life. Some of those who are Christians consider me and my family as their family where everyone cares and supports us. My family is living a healthy and joyful life because of God. God took me in the dark and put us in the light.
Peranda Fils-Aime
As a child, I used the privilege of going to church as a program. I used to go to church two times a week. However, I went there because of my friends who used to go to church. My focus was mostly on going to Voodoo ceremonies with my auntie who used to take me. I was happier at those ceremonies than when I was at church. I never believed in the existence of God. As I was getting older, I started to pay more attention to the church.
When I heard more and more about the eternal life that God promises us, I started talking to some people at the church who had been serving God for a long period of time about the situation I was in. They talked to talk to me about the love of God for us by sending His only son to die for us, in which I did not believe until I read John 3:16. They told me that God could forgive my sins and give me eternal life. After reading on John 10: 10 that stated, "The thief comes only to steal and kill and destroy; I have come that they may have life, and have it to the full," (NIV) I finally decided to give my life to God.
That decision makes me who I am today serving God happily with my family. Now I can see what it means to serving God because He took me out of a surgery last year something doctors said I should have done. I also can say that Christ means the world to me because having Him in my life is like having everything else. If I am living in peace and with happiness is because I am a Christian.

Macaira Furman
I grew up in a Salvation Army family, and my parents were Officers. Every time my parents moved, I was sad because I had to start my life over. Making new friends was difficult for me, so I would do anything that I could to fit in at my new schools. I remember when I was in middle school, I pretended to like Neopets, an online game, because that was what everyone else was into. I was thrilled when I got a new toy because it meant that I could trade with the other kids. There were many other times where I changed who I was so that others would accept me, but it took me a while to figure out what was going on. It was not until I was at college where I realized that I was putting my worth in the world around me.
I craved the approval of others, and did not feel valued until the people around me accepted me. I ended up in many compromising situations because of these efforts. But, God grabbed my attention. He helped me realize that I am worthy because I am His daughter, and because I am made in His image. One verse that helped me during this time was Jeremiah 31:3, "…I have loved you with an everlasting love; I have drawn you with unfailing kindness." What touched me was that I did not have to do anything to gain the approval of God; He already loved me, with an everlasting love! Nothing will ever change it! Once this resonated in my life, I began to live for Him. I did not change who I was for others, because I knew my worth came from God and God alone.
Abraham Garret
Before accepting Jesus, I was filled with questions and emotions resulting from being abandoned by my parents. I was angry. I was hurting and because I was adopted by my grandparents, I felt unable to relate to other kids my age. I used food and other harmful methods to cope with my feelings. My grandparents spoke with me often about the Bible and sent me to church every Sunday. It was at one of the Church's VBS programs that I first prayed and asked Jesus into my life. Of course, God had always been in my life, but this was the first time that I realized I was a sinner in need of His forgiveness. I realized then that by placing my trust in what He did for me on the cross, through His death, burial and resurrection, I could be forgiven. I knew that this meant He would now take up a special place in my heart and life. After this conversion, I began to feel God's presence and understand His guidance. This has brought me through very difficult times in life. It brought acceptance, a sense of belonging, and peace.

Even when I have strayed, God has remained faithful. I feel that God's love for me is so great. His grace is so tender that He reveals things in my life that need to change slowly, as I am able to change. I am constantly humbled at the revelation of my great need and the manifestation of His loving provision to meet my need Now I cringe to think of holding back from God and pray that I will crave Him evermore. I want to go forward, till Promotion to Glory, loving and surrendering to God whole heartedly.

Monica Gelnett
Jesus was always a friend of my family. However, He was not always a friend of mine. I will never forget the day that I asked Jesus to be my personal friend. I was about five years old. It was during Vacation Bible School and my mom, a Pastor in The Salvation Army, had asked me if I wanted to ask Jesus to be my friend. I was so excited! I made sure that I grabbed my twin brother, Matt, so he asked Jesus to be his friend as well. I wanted everyone I knew to be friends with Jesus. I was on fire! Sadly, that fire did not last. Growing up, my family was known as the "Brady Bunch Family". Life was perfect... or so it seemed.
When I was ten years old, my parents left the church, no longer pastors. Life was never the same again. That happy-go- lucky little girl with the seemingly perfect life was no more. My family went from the "Brady Bunch" to "Jerry Springer", with divorce and strife all around. Through the pain, hurt, and anger, I held God a distance away during my teenage years, only to call on Him when I needed His help to get through something, a sad excuse for a relationship with my Heavenly Father. However, when I was nineteen years old, I got very serious in my relationship with God. I felt like I had been sleeping for a few years and suddenly was awakened to the realization of what I was missing out on. God, the Creator of the Universe wanted to have a relationship with me! I jumped at the opportunity and refuse to come back down. I hold tight to Philippians 1:6, saying, "God is the one who began this good work in you, and I am certain that he won't stop before it is complete on the day that Christ Jesus returns."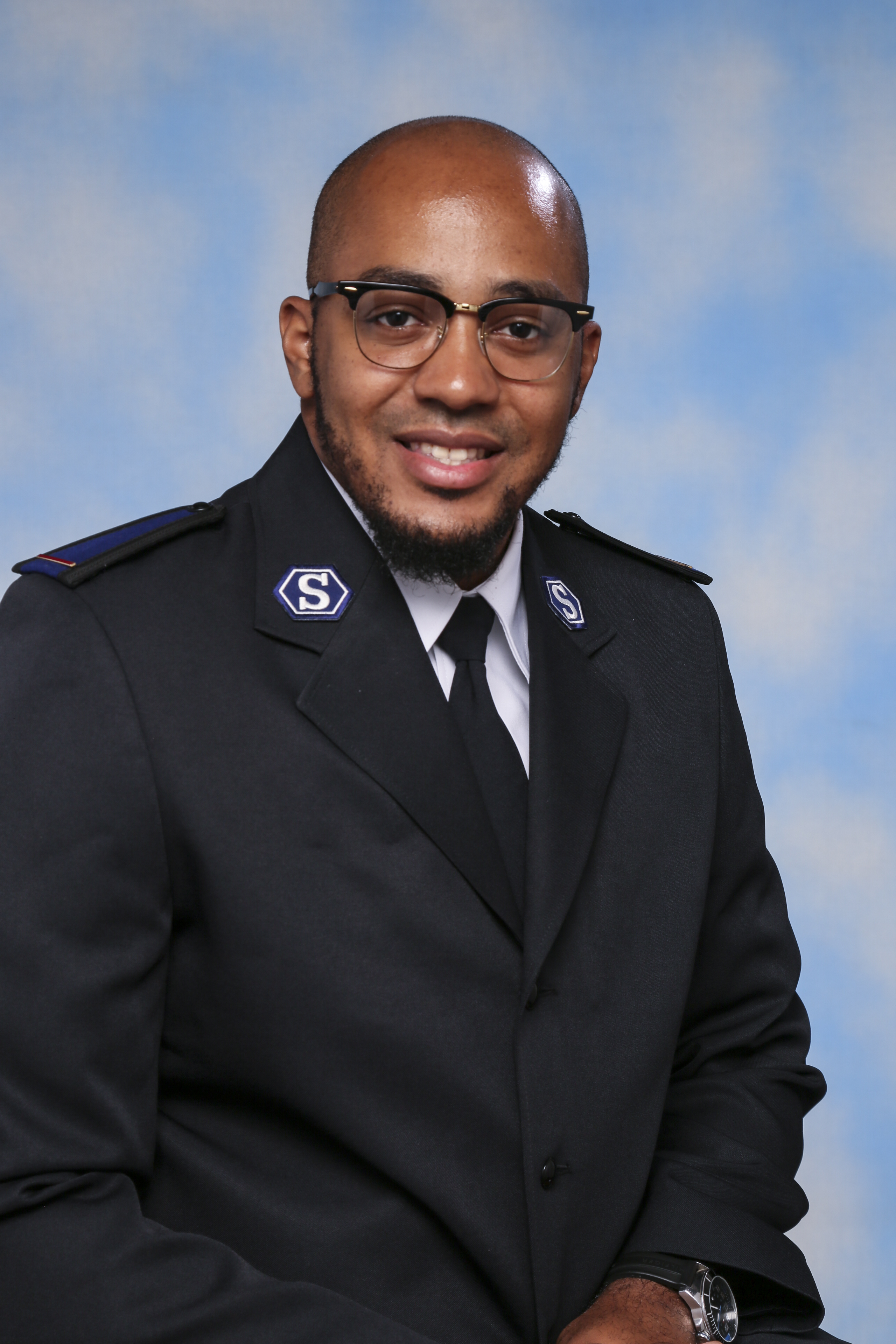 Yuco Hall
Yuco Hall is a soldier of the Harlem Temple Corps in the Greater New York Division. Yuco currently works as an Afterschool Teacher. He became involved with the Salvation Army at Star Lake Camp working as a counselor. Yuco is very active at his corps, especially in youth programs. Yuco went on a mission's trip to Camden to observe the various outreach ministries taking place at the Salvation Army. God spoke to him and showed him that helping people as an officer was his calling. 1 Corinthians 13:4 (NIV): "Love is patient, love is kind. It does not envy, it does not boast, it is not proud."
Heather Hart
Before following Christ, I had always known about Him, but it stayed as head-knowledge and hadn't gotten much further than that. I hadn't rebelled in extreme ways, but I didn't have a personal relationship with God either, which can be just as bad. I also found myself looking for happiness through the praise and approval of other people and worrying more about what others thought of me than whether or not my actions were pleasing to God.
I originally accepted Jesus into my heart as Lord and Savior of my life when I was around five years old. My grandmother had died and I had questions about how I could make sure I could spend eternity with God after I die. So my parents explained to me that we all have sinned, but that God sent His one and only Son to die for the whole world so that our sins could be forgiven. When I was sixteen years old and working at the Salvation Army's Camp Swoneky one summer, I became much more intentional with my relationship with Christ. I started to dig deeper in my Bible and started to do my own personal devotions and ask deeper questions. I shifted from merely knowing about God, to actually knowing God on a deep, personal level.
Today my life as a Christian isn't perfect. I still have times when I mess up and get off the path God has for me. But I praise God for His grace and forgiveness. With God's help I have been able to shift my focus onto Him more, rather than on man's praise. In the moments when I find this difficult to do, I try to remember Colossians 3:23, which
Candace Horsman
From as far back as I can remember, I have known who Jesus was and I asked him at a young age to come into my heart. I had always been told that God had a purpose for my life but instead of that comforting me, it made me afraid. I was afraid of what God might ask me to do; feeling unworthy and inadequate to live out that purpose. I allowed that fear to be in control and sought after a Christian life that was safe and comfortable.
Yet even as I pursued a life of comfort, God was pursuing me still. At 17 years old I was introduced to the Salvation Army, a church so much different than what I was used to. God took that opportunity to stretch and challenge me to serve him in ways I never had before.
In 2013 I attended the Candidate's Seminar and of course, the theme of the weekend was "Courageous." The theme of courage was the thing that I felt I certainly didn't have enough of. God showed me during that weekend however, that by relying on his strength, I did have enough courage to take a step of faith and accept the plan he had for me. During the altar call, I finally surrendered the fear that I had allowed to make a home in my heart.
Now I am following God's purpose for my life with a boldness that I know can only come from him. I am no longer controlled by fear but have found courage as a servant of Jesus Christ. During those times when fear threatens to rear its head, The Lord speaks words into my life both affirming and challenging. He says, "Have I not commanded you? Be strong and courageous. Do not be afraid; do not be discouraged, for the Lord your God will be with you wherever you go. –Joshua 1:9
Wonni In
Growing up in a Buddhist household was not always the easiest thing. My parents were Buddhist and because of that we as kids just had to follow. One day during the summer, people from The Salvation Army were doing visitations for Vacation Bible School in my neighborhood and they knocked on my door. The Pastors at the time were the ones at the door and tried to invite us, but it did not work the first time. After they went around the whole neighborhood, the Pastors came back to the house and persuaded my parents to let my siblings and I go. The following week we attended Vacation Bible School and it was a great experience. The Pastors invited my family to the Sunday Service and so we went. It was different, but I had the urge to go back.

I accepted Jesus into my heart at the age of six at a summer camp called Camp Wonderland, but still did not know who God was. I was finding myself going to the temple with my parents still not realizing it was wrong. As I learned more and more about Jesus, the understanding of him became clearer. Months had gone by and I found myself participating in most of the church programs which included Music programs, Sunbeams and going to church regularly on Sunday. Before I knew it, I had found myself involved more and more with the church than I normally had been. One harmless knock on my door as a child turned into a lifelong, loving commitment to love, and tell others about what Jesus did in my life. Some days when I think about my life and how I ended up where I am, I think of this verse, "You will keep in perfect peace those whose minds are steadfast, because they trust in you." – Isaiah 26:3 NIV
Hilary Jones
"For this Spirit God gave us does not make us timid but gives us power, love and self-discipline."
2 Timothy 1:17 (NIV)
Matthew Jones
I was blessed to be born into a wonderful family with a rich Christian heritage. My grandparents and parents were officers (pastors) in The Salvation Army. I have been in church many times a week since birth and I became a member of the church at my first opportunity.
I am a perfectionist that wants things done my way and I do not like relying on others for help, and this carried over to my relationship with God. I had asked Him to forgive my sins, but I was still trying to save myself. I found my happiness and peace in being perfect, crushing myself for anything less. The times in life where I didn't measure up lead to endless frustration and my soul wasn't satisfied.
I was tired of going through all the right motions, trying to stay perfect, trying to save myself. God was still right there by my side, quietly calling my name. In my early twenties I was at a church retreat for young adults and God spoke profoundly to me, reminding me of the words of Ephesians 2:8-9 "For it is by grace you have been saved, through faith—and this is not from yourselves, it is the gift of God— not by works, so that no one can boast." My sins have already been paid for, there was nothing I can do to save myself. I was a sinner who would never measure up, but I am saved by the grace of God. On my own strength I will always grow frustrated, but I have found peace knowing that God has forgiven my sins. Before I met Christ I was filled with angst and frustration as I tried to serve myself, but now I find peace with God and in life as I selflessly live to please and serve Him in everything I do.
Samantha Keaton
I did not grow up in church and knew almost nothing about Jesus, so I tried to find my worth in material things. I was trying so hard to be the best at everything, to make others notice me, and to find just one thing that would make somebody tell me they were proud of me. I quickly found that no matter what I did, it wasn't good enough. They were only proud for a moment, and I only felt better about myself for that one moment. I was searching for some kind of hope in all the wrong places. When I was in 10th grade I started going to The Salvation Army. I began to understand who God is and the role He plays in our lives, but I didn't want to give everything over to Him. I wanted control of my life, and God just to be there to get me out of trouble and to protect my family and friends.

I continued that mindset for a couple years, until God spoke to me very clearly at Youth Councils in 2012. In that moment, I finally surrendered. I came to understand that my worth is found is Christ, that I am loved, cherished, accepted and forgiven more than I will ever understand. I have since found myself fully engaged in ministry with The Salvation Army. I am looking forward to a life of full time ministry, as God has called me. James 4:8 "Come close to God, and God will come close to you. Wash your hands you sinners; purify your hearts, for your loyalty is divided between God and the world."
Moner Lapaix
Being a Christian plays an important part of my life. I was born and raised in a Christian family. My parents always told me to go to church. At my very young age, I didn't really understand the meaning of going to church. I did not have the interest to know about God, but just to go have fun at church. I found myself having fun with other kids when I had to go to church. At that time, going to church wasn't a choice for me, but an obligation. So the only interests I had when I went to church were to have fun, to eat, and to play games. As I got older, I realized that I needed something more important than just to have fun at church.
One Sunday morning, a junior group that I was in sang a song called "God can do everything for you". After singing that song, the pastor preached a message titled "God is sufficient". During the message, I felt that there was a voice calling deep in my heart saying, "Put your trust in God and take him seriously, He'll meet all your needs". At the end of the message, I knelt at the altar to pray, and a few people prayed with me. I confessed and asked God to help me to serve Him more seriously. God answered my prayer. From then on, I had a great relationship with Him, and He satisfied all my needs till this very day. Today my life as a Christian is the better life. I encourage everyone to take that step and meet with God.
Sarah Lapaix
Before following Christ, I was unhappy with life. I had a dead end job, lousy relationships with others and no matter where I tried to find happiness, I came up feeling empty, lost, and hopeless. The only happiness I had was when I was with my parents. They made me feel happy, even if only for the short time I spent at home each night with them. I know now that this was because they had Jesus in their lives and it showed through in everything they did. I grew up in a Christian home, but spent so much time running. It took three tries of accepting Jesus in to my life for it to stick.
I was twenty-three when I truly accepted Jesus. God placed a man in my life who made me realize I was running in the wrong direction in life. I began to pray harder than I ever had for forgiveness of all the running and sinning I had done. It took a little while for me to feel at peace and have God reveal to me that He had forgiven me by leading me to a verse, Psalm 16:11. It says, "You make known to me the path of life, you fill me with joy in your presence, with eternal pleasures at your right hand."
After accepting Christ into my life, I have come to understand that being a Christian is more than going to church on Sunday, praying and reading my Bible. It's about having a close, personal relationship with Christ. Although I still have hardships as a Christian, nothing compares to my life now. I have happiness and a sense of peace through Christ. Jesus is the center of everything in my life. He's the center of my marriage, my family and now my future ministry to others. God is good!

Kimisha Marshall
Before I started my walk with Christ, I did what I wanted to do. I just lived life by going to work every day just to make money and to keep a roof over my head. I had good role models in my life, but I didn't really listen to them. I was a person that was always by myself and didn't have many friends. The friends I had wasn't as great either. I always believed it was my hard work that got me everything that I wanted. I realized I needed God more than ever and that I wasn't living a life God wanted me to live. God wasn't happy with that and I knew it was time to change that. Ephesians 2:8-9 NIV says, for it is by grace you have been saved, through faith and this not from yourselves, it is the gift of God not by works, so that no one can boast. I then realized it was because of God I had a roof over my head and had a great job. He was blessing me and I wasn't thanking him for the blessing because I thought it was my hard work. I became a Christian when I joined The Salvation Army. I joined a lot of activities at the corps and we always talked about growing our trust in God. As a young girl I always knew I wanted to be closer to God. Even though I wasn't on the right path. My life today as a Christian is even better, and I am happier than I was before. I don't worry about anything because I know God is always there for me. My love has grown even bigger. I have good role models in my life. I thank him every day.
Kara Martin
My struggles started at age 11, when I was molested and my mother sent me to Boston to live with my father. By the time I was 15, I was married and pregnant with my second child. My husband at the time abused me physically and mentally. I left him at age 17 and found myself with more mistakes. God's blessings from those mistakes? Seven beautiful kids.
I've sold drugs since the age of 14. I actually picked up an addiction along my mistake of men and became addicted to cocaine. I was known by many people in the street to have a destructive personality when I was high. If I didn't like you... You knew it. If I did, I lead you to my own self-destructive world. I didn't care about anything.
In 2005, we had a fire and lost everything. That was my final breaking point.
After the fire, I sent my kids to live with family. I was high all the time, homeless, selling drugs, drinking, not eating or sleeping, and lost 100lbs in a month! I tried committing suicide a few times with a close call. I finally went to a program and became sober in 2010.
What changed my life forever was when I walked into the Salvation Army during Christmas for seasonal help. I was invited to something I have never been a part of... A family. After meeting supportive people, I saw where God was the whole time. I was saved by grace and accepted Christ in January 2011. In April 2012, I was sworn into the Lynn Citadel Salvation Army as a soldier. It is by that grace, I'm now a Cadet at CFOT.
This is my verse that summarizes my testimony... Ephesians 2:8(NIV). For it is by grace you have been saved, through faith and this is not from yourselves, it is the gift of God.

Ariann Maupin
"We have this hope as an anchor for the soul, firm and secure, it enters the inner sanctuary behind the curtain." Hebrews 6:19 (NIV)
Lizette Medina
"For He will command His angels concerning you to guard you in all your ways." Psalm 91:11 (NIV)
Marie Montour
I grew up in Salvation Army in Haiti. My mother was a soldier and my father was not part of any church, even then my father always motivated us to go to church. At three years old, my mother taught me how to pray, so each night before I go to bed I would always pray. At seven years old, I became a junior soldier, and at ten years old, I started to preach five minutes meditation. What was helpful was that I was taught a lot of different bible stories at a young age.
Additionally, I had very high standards on how Christians should be. I loved God so much that I felt that if a person did not know Christ, they could not be my friend. Due to that, at the time I only wanted to be friends with Christians because I did not want to be part of the world. When I had a more understanding on what Christianity is and I read Mark 2:17, that stated; "It is not the healthy who need a doctor, but the sick. I have not come to call the righteous, but sinners." I came to the realization that it is not the people that knew who Christ was I needed to talk, but the ones that do not know Christ, because they indeed are the ones that need to be brought to God.
Due to that fact, I had a great joy in my life because I was now seeking lost sheep for Christ, as before, I was only thinking about myself. Since then, I have been growing as a Christian. Today I can say I have brought a lot of loss sheep to God and I also, planted the seeds along the way. God changed my perspective
Reginald Montour
I was born and grew up in a non-Christian family. My mother was polytheism, she believed in and worshiped idols. I believed in and worshiped the idols too. I thought they could protect me. At the age of 7 I attended the Salvation Army elementary school and used to go to afternoon Sunday school every Sunday. One Sunday afternoon, after the Sunday school lesson was over I gave my heart to God and on that day I fell joy, happiness and peace within.
It was not easy for me to live with my mother who was a polytheism. My faith in God could not grow the way it was supposed to because my mom used to like singing her idol songs. Because of her constant singing, those songs were stuck in my mind and I would sing along. God saw me striving that one Sunday He sent me His word. I received the New Testament and started reading it, love was bursting in my heart and I fell in love with the word of God. Although I was reading my Bible I was still struggling when it came to take my decisions. I had confusion regarding what was wrong and what was right until I was in my twenties.
I became a senior soldier at the age of 23. Although I was a senior soldier, I would still go clubbing. As I was continue to go to church, God sent me His message: "I have a plan for your life" but the biggest part of His message was to offer my body as a living sacrifice pleasing God and He told me in romans 12:2 "Do not conform to the pattern of this world, but be transformed by the renewing of your mind. Then you will be able to test and approve what God's will is – His good, pleasing and perfect will." These words had scarred me since then and I have been trying to better myself. I can see clearly now how sweet God's will is and I am enjoying every second of it.
Karyn Morris
I was an average church kid growing up. I was "converted" at summer camp when I was 12. I went to school; I was active in both my church and community. I had a cursory knowledge about the bible and was able to use it at my whim. I thought I was untouchable. I knew of God but I didn't really know him in my heart. My prideful attitude alienated me from my loved ones and eventually I found myself in an empty and abusive marriage 600 miles away from home.
I realized that I needed God desperately and I begged him to show me a way out of my home. I repented for my terrible choices and for choosing a life outside of him. He helped me as soon as I asked. He provided people to come to my rescue and employment when I had none. I was able to return to my home state and work for my church as I had always wanted to. I have had to surrender my pride to him many times and he's blessed my surrender beyond what I could ask for. I began to heal from my tumultuous life and he made me whole in him.
God reminds me regularly in John 3:30 that He must become greater and I must become less. When I put him at the head of anything I do, he helps me do my best. I am far from perfect, and he never stops being there for me. I love him more than anything and he shows himself to be faithful at every turn. When I become too proud, he allows me embarrassing moments to prune me so that I can get out of the way of his work in my life. Just imagine what he could do with what you give him!
Erik Muhs
I grew up in a Christian home, my parents were both ministers. I accepted Jesus when I was a young child. However; I didn't take my faith seriously. As I got older I steered away from the church and the Christian ideals my parents had instilled in me. During my high school and college years I cared more about my social life and partying, then I did with having a relationship with God. I almost stopped going to church altogether.

In 2007 I worked at a Salvation Army summer camp in North East Ohio. That summer was one of the hardest times of my life. I was in charge of dealing with children who had disciplinary issues. Along with my female counter part, we sent more kids home that summer due to behavior then they did in the past 10 years combined. When it seemed like I was going to lose my mind with one more "crazy kid" after another. God opened my eyes one day and revealed the beauty of the nature all around me. I realized God was bigger than my problems and I needed to start trusting in him again. The rest of that summer seemed to go my way. The staff and campers seemed to be better behaved, and people kept coming up to me and telling me that they could tell God was using me for something great.
Since then I've started living more for God. I became a youth pastor at my church, and got more involved in activities around the state. In 2014 I accepted my calling to be an officer when attending Candidates' weekend that February. God turned my life of only caring about me. Into a life of serving others for his kingdom.
Rafael Polaco
"Call to me and I will answer you and tell you great and unsearchable things you do not know." Jeremiah 33:3 (NIV)
Vanessa Polaco
"So do not fear, for I am with you; do not be dismayed, for I am your God, I will strengthen you and help you; I will uphold you with my righteous right hand." Isaiah 41:10 (NIV)
Derrick Purvis
In college, I played baseball, but was soon caught up with college life. I went to parties and was placed on academic probation. I left school and went to other schools, but again found myself not doing well. Instead of giving up, I concentrated on working and helping my parents at the Salvation Army. One night while driving for kettles, I got a phone call saying a friend had passed away. I could not believe it. After coming back home from the funeral, I wanted to do something with young adults with suicide prevention, including a Christian aspect. I kept trying to think of ideas, but officership kept coming to mind. I kept telling myself, "I don't want to do that, God, that's not me." One day I had asked my mother for her phone charger. When she went upstairs to look for it, she said, "If you ever want to be an officer, you have to keep your room clean because they do room inspections." This would not mean much if I had not asked God to give me a sign of what he wanted me to do.
I had not talked to my mother about training school or becoming an officer, so for her to say that, I knew that's what God wanted me to do. Since my calling, I had to understand that it's not about me, it's all about God. We sing a song at church that has impacted me a lot. The words are, "I'm coming back to the heart of worship it's all about you, it's all about you Jesus." Every time I hear that song I'm reminded that no matter where I go or what I do, it's not about what I want; it's about what He wants me to do.
Michelle Reece
Michelle Reece is a soldier of the Brooklyn Brownsville Corps in the Greater New York Division. She has a Bachelor's Degree in Psychology from Hunter College and a Master's Degree in Psychology from City College. Michelle currently works at the corps as the After School Director. She started attending the Salvation Army with her mother at five years old and has been involved ever since. A friend recently spoke to her about becoming an officer. At first she could not see herself being an officer, but made it a matter of prayer. She sealed her calling during the past candidates' seminar. Michelle has a good appreciation for corps ministries and wants to be a part of the greater mission of leading others to Christ. Psalm 37:4 (NIV): "Delight yourself in the Lord; and he will give you the desires of your heart."
Edna Rodriguez
"The LORD is my shepherd, I lack nothing." Psalm 23:1 (NIV)
Willie Rodriguez
"But the king replied to Araunah, "No, I insist on paying you for it. I will not sacrifice to the LORD my God burnt offerings that cost me nothing." So David bought the threshing floor and the oxen and paid fifty shekels of silver for them." 2 Samuel 24:24 (NIV)
Charmaine Romano
Before I came to know Christ as my personal Savior, my life had a sense of emptiness. I could never quite put my finger on it but even my happiest moments seemed to be shadowed by dark thoughts; "How long will this last?" or "What's coming next to shatter my world?", are examples of what would replay in my mind. Tired of living a life of what I called "temporary joy", I found myself becoming very drawn to nature and its sheer beauty and essence. It was the only time that I could feel somewhat full or content, not expecting the next bomb to drop on my life.
Although I grew up in a religious household, it was not until I was invited to attend a church service at The Salvation Army did I recognize that I had been on a quest searching and longing for God my entire life. It was then that it hit me, through creation I was seeking God. As I sat in service that Sunday morning, the scripture reading Proverbs 8:17 was read "I love those who love me; and those who diligently seek me will find me." I immediately knew that it was not by chance that I was in church that Sunday morning. Elated that God was actually seeking me, I received Christ as my Savior that day and I have never looked back.
Today my life as a Christian is full. No longer shadowed by temporary joy, I have found everlasting happiness in Christ. I now know that He is my Comforter, Creator and Healer. I can enjoy life now not worrying about those bombs that life will drop because I know they are necessary to grow and that I can take all my petitions to Christ in prayer. I have found my joy in Him and He is equally as excited about me.
John Ruiz
"You are the light of the world. A town build on a hill cannot be hidden. Neither do people light a lamp and put it under a bowl. Instead they put it on its stand, and it gives light to everyone in the house. In the same way, let your light shine beofore others, that they may see your good deeds and glorify your Father in heaven." Matthew 5:14-16 (NIV)
Lida Ruiz
"But the king replied to Araunah, "No, I insist on paying you for it. I will not sacrifice to the LORD my God burnt offerings that cost me nothing." So David bought the threshing floor and the oxen and paid fifty shekels of silver for them." 2 Samuel 24:24 (NIV)

Jean Sainteme
When I was a little boy, church was a priority in my life. Due to the fact my mother was a Salvationist, it felt as if it was an obligation to attend church every Sunday mornings. However, attending church regularly on Sunday, did not mean that I was a Christian. When I turned fourteen I stopped going to church, I felt grown and I could make my own decisions. I sometimes spent three to six months without going to church. I would either stayed home or went to my friend's house.
One Sunday morning I went a holiness meeting, God spoke to me. At the time I was seventeen years old. I realized I was guilty because I was not trying to build a relationship with God. From that point on, I decided to accept Jesus Christ in my life. Accepted Jesus Christ in my life as a new believer I was eager to learn and explore who God was. From times to times, I felt like God has something for me, but I could not understand what was it. Seven years later, my mother passed away.
After I lost my mother, I felt like I had nobody, I was empty and hopeless , during that time of my loss, I found myself working two jobs, and going to school at the same time. It was a coping mechanism for me. That went on for a wife until I met my wife wonderful wife Stephanie who help me cope. We got married in 2001, we have two beautiful children. After that, God drew me closer to him. I quit one job, and I started going back to church. Now my life is completely changed and I found hope and happiness in Christ. In Jeremiah 29:11 (NIV) "for I know the plans I have for you," declares the Lord," plans to prosper you and not to harm you, plans to give you hope and a future."
Stephanie Sainteme
Growing up as a little girl I did not know what church really was. To me church was an idol worship and sacrifice spell others. Doing that time school and spot was my life, back in high school I use to run track. So that was the most important for thing for me. I got the invited to church by a young man. I did not want to go with him, because my father had kicked my brother out for accepting a church invitation.
Although I did not know God, He was working in me. I felt like I need a change in my life. So knowing the consequences of going to church. I did go when my brother friends now my husband invited me to church. I want it so see the God that he always talking about. After, attending church four time in 2000 I received Christ into my life doing one of the sermon.
From these day I had the confidence knowing that God was ready to except me and had the interested in me wanted to be a part of my life. Before I use to felt unwanted and unloved. Since I got save I have worth in Christ, He had providing me with now family of Christ, that love me with joy, care and patience. Ever since that day, God has been my everything, my peace, strength and friend. I even have a family in my own to love, care and spend time with.
Galatians 2:20 (NIV) Said, "I have been crucified with Christ and I no longer live, but Christ lives in me. The life I now live in the body, I live by faith in the Son of God, who loved me and gave himself for me".
Steven Salmon
In the past, my father was the parent that I felt best connected to and was the one person that I looked up to as someone I wanted to grow into. When I was at the age of six my mother brought me to America, and this was the biggest change that had ever happened to me. I was separated from my father, the one person at that time in my life where I felt safe and loved. I became angry at my family and angry at the world; which put me in situations where I was fighting and hanging with the wrong people, just doing things I'm not supposed to do.
I became a Christian when The Salvation Army invited me to Youth Councils. During the program I was listening to the speaker, whose name is Stewart Dalrymple, and he spoke about feeling alone and confused growing up in the world. He said "Through it all, you were never alone because our Lord was with you. During the altar call I reflected on what Stewart was saying and it made me realized that he was right! All the times I could have made choices which could have been for the worst; there was always this feeling of something waking me up to what I was putting myself into; I could not hold off my tears, any longer and I accepted Christ as my Lord and Savior.
With Christ in my life, my anger settled down to the point I can control it. I was able to turn from things of the world such as drugs and alcohol. I was also able to work in my corps to grow spiritually and mentally. Then eventually I accepted my calling to be an Officer for The Salvation Army, and finally to be accepted as a cadet for the College of Officers Training learning more about God.
Fabi Soto
I used to go through life feeling like the most important thing was to get a good education and have a degree. My life revolved around excellent grades that made my parents proud. Life became nothing more than an assignment and I began to feel empty inside. My parents had instilled in us the importance of education because they had never received one and though we attended church that was not my main focus. Soon enough I realized that my self-worth was found in those tests and when the grades didn't meet my standards, I would beat myself up to do better next time.
At some point, my mom began to attend The Salvation Army church and this brought change to my life. I learned that I was created in the image of God; my self-worth was found in Him and not the lousy test scores I received sometimes. There was a God who wanted a relationship with me, who was waiting for me to have faith in His son Jesus Christ so that all my sins could be forgiven. I decided to take a leap of faith and give my life over to God.
When I decided to follow God, my life changed; the emptiness I had felt before was filled with peace and joy. I began to build relationships with new people who in their own ways manifested Christ. A few years later, I received the call to become a Salvation officer and it was met with much resistance on my part. I wasn't prepared for the life God had planned for me until I realized that it was exactly what my heart had always desired. "Delight yourself in the Lord, and he will give you the desires of your heart." Psalm 37:4 ESV
Kendall Stout
Thinking back now, I always ponder the question, "What if I came to the Lord earlier in my life?" Would my life be different? But growing up I was uncomfortable just sitting in a church pew on Sunday morning, I cringed at the sound of someone asking me to read scripture, and as I grew in my relationship with the Lord, just the thought of praying out loud got my heart pounding, but for me, sharing my faith and all that the Lord has done in my life was the hardest. In those aspects of my life, I am thankful that the Lord has done some miraculous things.
In the beginning of my journey, I knew that the Lord had a greater plan for my life, I knew He was calling me to be a Salvation Army Officer. But at that time in my life I thought I knew what was best for me, clearly not. Now normally in life I handle my problems head on, but with this calling I ran, I ran from the possibility of greater things. At that point in my life, the Lord met me where I was at, and where I was, was a place of confusion. The best part is that He may have met me there, but He surely didn't leave me there. He used me, stretched me, and loved me. He made me into the person I am today.
For me being a Christian proved to be a journey, it isn't easy, but I always turn to the scripture that comes from Proverbs 3:5-6, " Trust in the Lord with all your heart and lean not on your own understanding, in all your ways acknowledge Him and he will make your paths straight." I can now say that I fully trust the Lord in all that He will do in my life. Where He leads me I will follow.
Rosario Torres
Rosario Torres is a soldier of the Queens Temple Corps in the Greater New York Division. Rosario grew up in Peru and faced many challenges being a single mom and working to provide for her children. She came to the USA in 2011 to live with her daughter and soon joined The Salvation Army. She currently works at the corps as a Maintenance Worker. She has a passion for serving others in her neighborhood, especially ministries that are serving the poor. Jeremiah 1:5 (NIV): "Before I formed you in the womb I knew you, before you were born I set you apart; I appointed you as a prophet to the nations."
Jacknier Tripari
Before following Christ, I felt empty. For a long period of time I searched for many things to fill that void in my life, things that would make me feel accepted and wanted. I began to build friendships with the wrong type of people, I began to focus on the wrong types of things. Because I was into the wrong things and hanging out with the wrong crowds, my relationship with my parents began to tumble. It got to the point where no matter what I did, the feeling of emptiness would not go away.
One day, as I sat in my room frustrated about myself and the way that my life was heading, I decided to open my Bible. I came across John 1:12 that said "But to all who did receive him, who believed in his name, he gave the right to be called Children of God." At this moment, I realized that being considered a child of God would be the biggest blessing that anyone could ever ask for. I recognized that the sacrifice that Jesus Christ had done for me was done completely out of love. And now I knew that if I truly chose to believe and receive God into my heart, I would be considered His child.
Since accepting God as my Savior and becoming a Christian, my life has been full of peace and love. But with this peace and love, there also comes responsibility. Being a Christian means that since I have understood the truth of the Gospel in my own life, I must share that truth with others. Today, Christ means everything to me, and I am amazed to know that God loves me beyond my imperfections and that he gives me the opportunity to grow in a relationship with him.
Valerie Velez
Before following Christ, I was looking for true happiness in many different ways. I would try by studying different things in college, doing what I wanted to do, and trying to live up to what people expected of me. But none of these things brought me the true happiness I was desperately needing at the time. I always knew, somehow or somewhere deep inside, that God wanted something better for me and wanted to be a part of my life. I realized I needed God to show me His ways and save me from the abyss that I was in.
Then in 1996 my family was led to a Christian church, The Salvation Army Ponce Corps in Puerto Rico, where I began to hear and read the Bible. I started to learn about how much God loved me, yes me! I began to understand why Jesus died on the cross and why he would forgive me of my sins. It was through the mental image of Jesus on the cross where I decided it was time to give my life to Christ. I asked Him to forgive all my sins, to come into my heart, and to lead me in His ways. The Bible says in Matthew 7:7, "Ask and it will be given to you; seek and you will find; knock and the door will be opened to you." So, I asked and started to seek him intentionally.
Today my life as a Christian is full of praise, thankfulness and filled with the joy I was searching for. Being a Christian is simply having a relationship with God and letting Him guide our every step. Jesus is a big part of my life now and I can truly say he is the center of my heart. I am grateful that He not only saved me but has forgiven my sins so I may have eternal life.

Cesar Villazana
I was born in Mexico City On April 27, 1995. In 1999 my parents immigrated to The United States of America to have a better life and to follow the American dream. Our first encounter with The Salvation Army was through my uncle who was the Envoy of the Hartford Temple corps.
In 2011, my corps officer invited me to go to Youth Councils with two other individuals from my corps. I truly didn't want to attend because I was hesitant in going with a group of teens that I truly didn't know. That weekend I heard my calling. My calling was to serve God as a Salvation Army officer. After this, my corps decided to get together a youth group, and I started to become fully active in my corps. I had local officership roles and even started attending activities in the division. In 2012, I became a Senior Soldier and took my life for Christ seriously. That following year I went to the Candidate Seminar, and that's when God reconfirmed my calling to serve him as a Salvation Army Officer. Then I talked to my DYS and started the process to officership. I got approved to enter the College for Officer Training this past June.
I love the fact that everything has somehow come together for me. I do not regret going the path that God has paved for me because I know that what He has for me is the best for me. I can do all with God by my side. I hope to take advantage of that through my years as a Salvation Army officer. My favorite scripture verse comes from the book of Deuteronomy 31:6 "Be strong and courageous. Do not be afraid or terrified because of them, for the Lord your God goes with you; he will never leave you nor forsake you".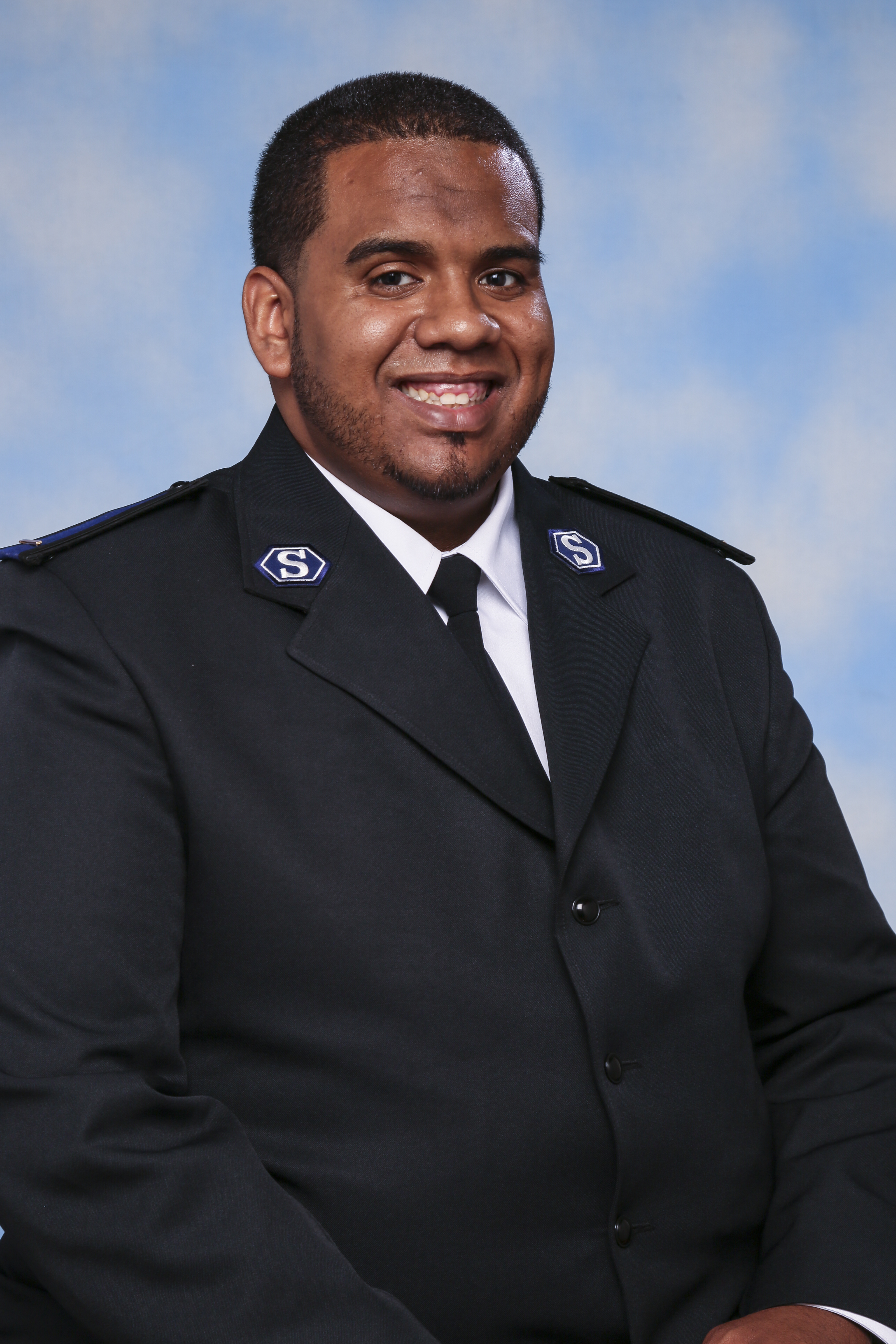 Emmanuel Villegas
My name is Enmanuel Villegas and I am from Lawrence, Massachusetts, and I am here to take you through a journey that helped me to be the man that I am today. At an early age, I was exposed, to God through the school that I was going to. However, I didn't understand the meaning of having a relationship with God. Until one day when my mother left for a business trip, she left us with a maid, which through her I was able to accept Jesus Christ in my heart. At the age of 12 years old, my parents divorced which forced my sister and I to move with our mother to the United States. When I moved, I came to the surprise that my mother had gotten married, was a Christian, and was part of The Salvation Army. As time went on, I became rebellious and felt like God didn't love me because my family was split. However, my first summer working at Camp Wonderland changed all of that when God spoke to me and let me know the plans He already had for me. However, I didn't feel like that was what I wanted to do. God never gave up and allowed some things to happen where He kept showing me that He had chosen me to work for His Kingdom. At the age of 25 in a Good Friday service, God reminded me of the calling He placed in life and I gave my life back to Him again. In the process of my calling, the Holy Spirit gave me this verse: "Do not fear for I am with you; do not dismayed for I am your God. I strengthen you and help you; I will uphold you with my righteous right hand", Isaiah 41:10.

Stanley Weems
I was born and raised in Cleveland, Ohio. My mother and father had nine children, 5 boys and 4 girls. I was born right under the middle child, 5 over me and 3 under me. Growing up, I was a very selfish person. I always wanted things to go my way, when they didn't I would get mad. My parents got a divorce when I was 16. That gave me a chance to really start doing what I wanted to do. I began to cut school and started to smoke marijuana. I was not interested is school or sports. I was interested in the girls. I began to date my high school sweetheart and started having sex at a young age. I dropped out of school and went into the army, that's when I found out that my High School sweetheart was pregnant. In the military, I began to use marijuana more and more, and I began to drink alcohol on a regular basis. I went to Korea and Germany. In Germany I started using heavy drugs, snorting cocaine. I got discharged from the army for my drug use. I went home back to Cleveland and started using crack cocaine. I become angry, hungry, and homeless. I went to the Salvation Army ARC program, and I heard about Jesus there. Even though my mother had told me about Jesus I never had a relationship with Him. At the ARC I asked Jesus to forgive me for my sins and come into my heart and He did. I went to the Corps and became a soldier and my life had changed. Drugs and alcohol are not a part of my life anymore. I became busy at my corps and now I am at the CFOT. Thank you, Jesus.
Jessenya Wiand
I started attending a Salvation Army corps when I was four years old. I was seven when I accepted Christ as my savior during a summer meeting at Star Lake Camp. I loved being a child of God. I was heavily involved in corps activities, and I really enjoyed being at the corps. I am pretty sure I was at the corps every day during the week except Saturday. I was told many times that God had big plans for me and that I was supposed to be an officer. I had a very tight bond with my officers and when it was finally time for them to leave, I took it really hard. I tried to stay around, but the new officers and I did not mesh well. I eventually left the corps.
I spent the rest of my teenage years floating back and forth to church but not really putting down any roots. Once I graduated high school I started drinking and doing drugs. I ended up in a very abusive marriage. Eventually I began to bring myself and my daughter back to my corps. It was here that I eventually found the strength to depend on God fully and leave my old life behind. One evening I was praying, asking for guidance. God gave me a vision and told me what I needed to do. I shared this with my officers a few days later. Within eight months, I had my acceptance letter into the College for Officer Training. I was renewed by His grace and power. Isaiah 40:31: "But those who hope in the Lord will renew their strength. They will soar on wings like eagles; they will run and not grow weary, they will walk and not be faint."
Kevilyn Wright
I fell in love with God as a little girl. As I approached my teenage years, my stepfather began to sexually abuse me. My mother took the situation to the church. The church kept the incident quiet. My mom eventually left the church and my stepfather continued to reside with us. Drugs and alcohol invaded our home. Strife and a lack of necessities became the norm for us.
My siblings and I continued to participate in the afterschool activities at The Salvation Army. The pastor at the time came up to me and asked us to come back to church. So I asked my mother and she said, "yes". In the midst of the chaos at our home we were taught how to praise and worship God through music. I fell in love with God at The Salvation Army. Without even realizing it, God was shielding us from the impact of the chaos.
The Army was my church home until I was 19 years old. Then, I turned away from God. A few years of my life were consumed with partying, materialistic items and the love of money. As I matured I began to work hard and earned my bachelor's degree. I had a great job and a decent life but something was still missing. I felt an emptiness inside. I woke up one day asking God, "Is this it? Is this what you intended life to be like?" God has always pursued me, but this was the moment I realized it. At first, I was hesitant, but he didn't give up. I returned back to Him and fell in love with him all over again. God gave me peace. I am now committed to serving the Lord.
Philippians 4:13 "I can do all things through Christ who strengthens me."